The Philanthropist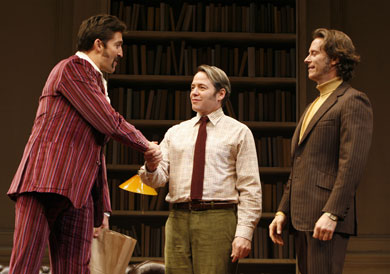 Last night, I had the pleasure to see the poorly-reviewed, yet undeniably masterful play, The Philanthropist, starring Matthew Broderick. Don't listen to the reviews, folks- this play was expertly acted, and had so many nuggets of unique thought, and such a proliferation of "ah-ha!" moments, that it is definitely worth the trip. Anyhow, as you might guess, the play got me thinking about philanthropy. About why people choose to be philanthropists, about how people give, and about the effectiveness of that giving.
In the play, Broderick's character (Philip) is a mild-mannered (he defines the term, in fact) linguistics professor at an English university. His nature makes him a natural giver; he is quiet, he listens, he gives his time and attention to everyone that comes to visit his home. But how is he viewed? Each time he does a good deed, or says something nice, his guest takes offense. The rest of the cast is hard-pressed to believe that Philip is being honest and kind, and they assume that he is taking sly, subtle shots at them. Is this how philanthropists are viewed today? Is every good deed, every dollar, viewed as a quid pro quo, rather than as a purely philanthropic act, by those who are at the receiving end of the deed? I think the answer is yes; sometimes. With big businesses giving money to charity for tax breaks, and some volunteers working to build up their resume, I think people have grown skeptical of the philanthropic act.
Furthermore, Philip, despite his giving nature, isn't very good at understanding where his guest is coming from, and what they might want. Instead, he just says what he would want to hear, and this contributes to the guest's frustrations. This symbol, too, can cross over into the philanthropic world. Too often, those who choose to give don't pay attention to who it is that they're giving to. This is frustrating for all parties involved, and winds up being ineffective for both parties.
So the moral of the play, and of philanthropy in general? We, as donors, have to listen to the parties to whom we are giving. Really listen, rather than just hear. And then, we have to give without any strings attached. Only then, I think, can the world begin to view philanthropy in a less skeptical manner, and give the act the credit which it deserves.
Dana Variano