Not Safe for Football?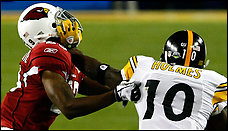 I, much like millions of other Americans, watched the Super Bowl last weekend. I enjoyed the game, while also enjoying the launch of a series of new ad campaigns and some pretty unimpressive summer blockbuster previews. Like millions of other Americans, however, I did not see the new ad spot from PETA, because NBC deemed it too racy to show. At the time, I didn't know what I was missing, but over the next few days PETA did a pretty decent job at getting their snub out to the world.
It's true that the scandalous ad would have made a big splash if it had been shown during the actual game, but from a marketing perspective, making an ad too sexy to show at the Super Bowl is brilliant. You don't have to pony up the cost of an actual Super Bowl spot (which certainly is not cheap), and you end up getting curious viewers driven to your site to see what the fuss was all about. It reminds me of the Swiftboat ad strategy of 2004 that eventually sunk John Kerry's presidential bid: much like the PETA ad, the infamous Swiftboat piece wasn't shown to most viewers. It did run once, in a small market, but it made its political hay because the news media picked it up and passed it around.
Well, just think of the traffic that is being driven to PETA's site over something deemed too scandalous to be showed during the same event that brought us Janet Jackson's costume malfunction. I've watched the spot, and would say that it's a bit risqué, but certainly hardly worthy of censorship. But regardless of what you think of using sex to sell a vegetarian agenda, you have to tip your hat to PETA. Never the prudes when it comes to their awareness tactics, they have once again managed to parlay a little sex into a big hubbub. Now, they can sit back and let news organizations (and bloggers like yours truly) keep the story, and the rest of their concerns about animal cruelty and other reasons to be a vegetarian, in the limelight.
If you are interested, you can find the scandal-plagued spot here.

Alan Smith