Schwab Charitable Supports Struggling Entrepreneurs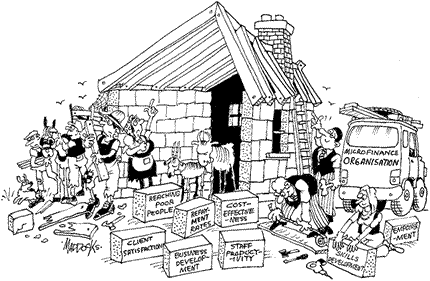 Nonprofit fund Schwab Charitable announced last week a new plan to support microfinance lending in order to encourage small, low-income entrepreneurs in their development efforts. In this scenario, donors are allowed to set aside up to 10% of their charitable gift to Schwab in order to support microfinance loans.
The Philanthropy News Digest explains the details of the plan: "Loan guarantees differ from direct gifts in that the funds don't necessarily leave a donor's account. Under the program, any funds used to guarantee microloans will only be used if the microfinance program has losses in excess of reserves." As a result, notes Debra Wetherby, CEO of Wetherby Asset Management, "it is a true win" for both the donors and the recipients of the loans.
This effort, which is being completed in association with the Grameen Foundation, a large player in the world's microfinance philanthropic sector, is a monumental one for low-income entrepreneurs. In addition to supporting low-income families and helping to put an end to global poverty, microfinance is an important part of economic and social development in the business field, as it grants money and resources to citizens with big ideas who are restricted to a small budget.
Encouraging development of a large range of ideas leads to a constructive environment where ideas are allowed to change hands, develop, and come to fruition in the most progressive manner possible. To learn more about mircofinancing, and what your donations to such institutions do for a variation of citizens, check this out.
Dana Variano