Theatre for Everybody?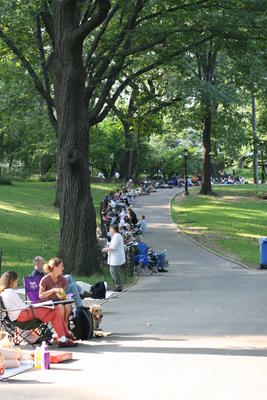 At 8 A.M. yesterday morning, I found myself bleary-eyed in Central Park as I lined up to wait for a free pair of tickets to The Public Theater's production of Hair, part of their Shakespeare in the Park summer series. My fatigue soon turned to surprise and a feeling of joy, however, at the sheer number of New Yorkers willing to stand in line for 5+ hours in order to see public theatre. The line of people, to me, was a bold signifier that the everyday citizens of New York were still interested in theatre.
Since my return from a spate of living London in 2004, I have been gnashing my teeth at the lack of a national theatre in America. London's National is a monolith of play production, producing both old and new experimental theatre at an incredibly fast pace. It compliments the West End, which is comparative to New York's Broadway, with one key difference: pricing. For twenty pounds, a student can get a front row seat to virtually any show of their choosing through a simple rush process in London. The result is a flourishing theatre scene, where going to see a play is an easy and affordable alternative to a movie or museum. In addition, increased interest leads to competition among producers to keep audiences coming back. Hence the reason why London has been putting out so many smash hits, many of which have hit this side of the Atlantic with as hard an impact.
The high price tags associated with Broadway productions, in contrast, greatly constrains who can attend the productions. In my eyes, this has led to a vicious cycle. Tourists and members of the upper echelon can afford the tickets, but the majority of citizens are cut out of the loop (at least on an every-day basis); those who can't afford the $120 price tag then define theatre as a snobbish event in which they have no interest. Frustrating, no? But yesterday, as I saw the vast range of fellow New Yorkers waiting on the line for Hair, I came to distrust the second half of my cycle. People- all people- still do love theatre. They'll do a lot, at least, to see it for a low or no cost. The people want theatre. Now it's our turn, as donors, to work toward that goal. The Public theatre is doing a great job battling the big Broadway producers for attention- check out some information here.
Dana Variano