Social Networking Activism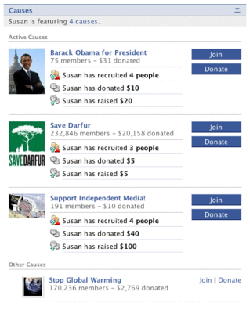 Though a member of "Generation Y" myself, I still feel quite overwhelmed by the seemingly complete conquest of the country by social networking sites. One can get a job, find a life partner, and socialize with friends without leaving the comfort of their favorite easy-chair. While I still grapple daily with how these websites are changing our society, it seems that one social networking site is using their popularity for positive change. The Facebook application, "Causes," was launched one year ago by Project Agape, led by internet gurus Sean Parker and Joseph Green, and has since made a positive influence in the growth of many non-profits.
The mission statement of "Causes" is to spread "equal opportunity activism," in an attempt to allow individuals of all ages and means to spread information, engage in dialogue, and contribute funds to non-profits through a grass-roots methodology. Any member (membership involves a simple mouse click, and all Facebook users are eligible) can be as big a part of their organization as they desire, and can build a page focusing on an organization or charity that they particularly want to support. This page will then be immediately available to the entire Facebook community, reaching 80 million active users.
As of May 29, 2008, as reported by the Washington Post, "the company says they've registered 12 million users who are now supporting more than 80,000 non-profit causes worldwide. $2.5 million has been raised for 19,445 different 501(c)(3) charitable organizations." These statistics are inspiring, and redefine my interpretation of what a real social network can do for this country. To connect people, to forge relationships that would otherwise be made impossible by age gaps, geographical distance, and limited resources: this is the true advantage of the internet. The ease with which Causes was built and the voice and support it has given to so many non-profits leads me to ask why we don't have more of these sites in our bursting internet toolbox. I think it is Generation Y's responsibility to build, grow, and innovate more of these tools, in order to become a full-fledged member of the philanthropic community.
Dana Variano