Partnerships for Parks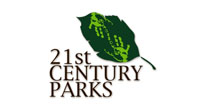 Louisville, Kentucky happens to be one of the cities in the United States that is lucky enough to count itself among those that have urban parks and parkways designed by the great Frederick Law Olmsted (Central Park in New York City, the U.S. Capitol Grounds, and the Biltmore estate in Asheville, NC are among many other Olmsted projects). According to the Olmsted Parks Conservancy , "Louisville's park system is the last designed by Olmsted, the "Father of American Landscape Architecture," and one of only five such systems across the country. Known nationally as the defining park system of his career, it stands today as one of his best-preserved works, reflecting the genius of Olmsted's vision."
As a testimony to the value of these gorgeous urban parks, on any given day they are filled with people playing soccer, softball, lacrosse, ultimate Frisbee, or tennis, running, cycling, walking their dogs, having picnics, swinging children on swings, golfing, or even watching an outdoor theatrical performance. At the same time, these people are surrounded by natural settings: trees, rocks, streams, scenic overlooks that are rare in urban settings. What a gift Olmsted gave our city. But of course, Olmsted didn't just pick Louisville as a project and show up to create parks. Louisville has Olmsted parks because its city leaders made parks a priority. According to the City of Metro Louisville's website, in 1890, a Board of Parks Commissioners of the City of Louisville was established by law and a vote of the people. The intent was to have a park in each portion of the city: west, south and east. The City conveyed all park land to the Board of Parks. Olmsted was hired the next year by a "group of prominent citizens to survey the land they had aquired for parks. The group was so impressed following his presentation they immediately contracted with his firm for development of a master plan for three large multi-purpose parks." Hence, the birth of a public-private parks partnership over a century ago.
These parks have served Louisville well for over 100 years, and now a new group of city leaders are working together in a public-private partnership to design and develop an additional park system, one that recognizes the growth of our city over the past century, and the need to connect individuals to nature in an expanded urban vision that reflects the realities of the day. In 2005, Louisville Mayor Jerry Abramson and Humana, Inc. co-founder David A. Jones, Sr. announced the plans for the City of Parks project, a public-private partnership between the Louisville Metro Government & Metro Parks, the nonprofit 21st Century Parksorganization headed by Jones' son, Dan, Future Fund land trust, the Olmsted Parks Conservancy, the Trust for Public Land, and the Louisville/Jefferson County Environmental Trust.
I was fortunate enough to be included in a small group of individuals invited to kayak along Floyds Fork Creek to get a "view from the creek" of a portion of the land now included in this visionary park project. The area around the Floyds Fork watershed is rapidly developing (Louisville is not well known for smart growth), and the 21st Century Parks initiative is "working to acquire and develop a system of interconnected parks and trails along a 27-mile stretch of Floyds Fork, from Shelbyville Road to Bardstown Road. In addition to trails for hikers, mountain bikers, and horseback riders, a "water trail" will allow park users in canoes or kayaks to explore Floyds Fork." While the trip that day only covered a 6-mile stretch of the "water trail," it revealed the treasures the park is preserving, and confirmed the importance of this project.
Louisville is not alone in its desire to preserve its natural beauty and integrate that nature into the daily lives of its citizens. A brief Internet search turns up information on public-private partnerships in cities across the nation, from Houston to Brooklyn to Montgomery County, Maryland.
Martin Rosen, in a chapter of the book, Urban Parks and Open Space, calls these public-private partnerships, "the greatest hope of the urban parks movement." He goes on to say, "For years we have been too inflexible, thinking that great parks must be created and paid for in a certain way and serve a certain purpose. In the area of maintenance and management, we have believed that if we mowed the lawns and repaired the picnic tables we could keep a great park great. But greatness cannot be 'maintained' like infrastructure. Greatness emerges through use and must be re-envisioned by each generation. The promise of the new public/private partnerships is that they will remain flexible and open to new approaches--constantly reinvigorated by their mix of governments, businesses, charitable and stakeholder groups, and nonprofit consultants. "
Do you have a great public-private parks partnership in your neck of the woods? We'd love to hear from you.

Caroline Heine