Ashoka Advancing Social Impact Globally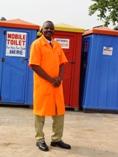 Thanks to David Stoker who responded to my recent post on community investment with some stories Ashoka is gathering as part of its Citizen Base Initiative.

Ashoka has been documenting examples of organizations that are using innovative citizen-engaging strategies to reach sustainability. To get a feel, David offered these:

Connecting Day Laborers to the Market -- Instead of doing a fundraiser or collecting in-kind donations in a large bin, Men at the Side of the Road in South Africa creatively engaged the community to turn passive donors to active participants in the fight against unemployment.

Franchising Public Toilets -- Instead of relying on international development agencies to build public facilities for sanitation, Ashoka Fellow Isaac Durojaiye (pictured) launched the country's first portable toilet initiative and recruited street kids to be the franchise owners.
Ashoka is a top-notch innovator and a great source for donors looking to invest effectively for social change.
Susan Herr