Globalization Cuts Both Ways When It's About Anti-Poverty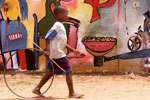 Improving poverty and income inequality is a shared objective globally, so it is fitting that globalization is bringing new innovations to these intractable social challenges in the U.S.
According to a recent article in the Economist, Brazil's Bolsa Familia ("Family Fund"), the largest anti-poverty scheme of its kind in the world, represents a proven model that is being adopted around the world, including in a recent experiment in New York City.
Here's how it works in Brazil, according to the article: For families below a certain income, mothers are paid a monthly benefit, distributed through a re-fillable debit card on the condition that they keep their children in school and keep them current with their vaccinations. Municipal governments monitor compliance of the program but the federal government pays the benefits.
The program receives technical and financial support from the World Bank, in an effort to show that "social policies [can] go beyond assistance and become active tools of social and economic transformation."
Opportunity NYC, New York City's take on the program, developed with the Rockefeller Foundation, will provide cash incentives to families in three key areas: education, health, and employment and training, as follows:
• Education incentives will promote superior attendance and good behavior in school, achievement and improved performance on standardized tests, and parental engagement in children's education.
• Health incentives will be offered to maintain adequate health coverage for all children and adults in participant households as well as age-appropriate medical and dental visits for each family member.
• Employment and training incentives will promote increased employment and earnings or combine work activities with specific job training activities.
The payoff is potentially big, big, big. The Economist article cites improvements in the "cycle of poverty" by ensuring children obtain an education, increased rates of economic growth for the poorest citizens and reduced income inequality in the Brazilian implementation.
We share Rockefeller Foundation's hope that this proven model could be transformative for American cities, if it proves proves fruitful for New York. We'd like to hear your thoughts about this or similar effective efforts.
Carla E. Dearing