General Election Elevating Youth Civic Engagement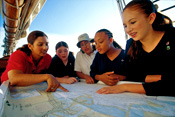 New research from the Girl Scout Leadership Institute (GSLI) demonstrates the extent to which the current election is engaging youth at atypically high levels. According to the February, 2008 poll:
Eight in 10 girls are interested in the upcoming Presidential election, and for the following reasons:
- (48%) A woman is running
- (30%) Want to know all candidates' points of view
- (29%) An African American is running
- (26%) The issues are important to them
- (18%) They like one of the candidates a lot
- (13%) Other youth my age are interested in it
- (12%) They like politics
- ( 5%) Other
• Nearly 70% of girls are not interested in holding any political offices.
• Regarding family discussions on politics, 55% of girls tend to talk about politics with their parents and the rest either not very often or never.
• Eight in 10 girls would get involved with this upcoming Presidential election if they could in a number of ways.
In releasing the data, GSLI also refers to data about higher levels of civic interest among American youth, in general. According to a Time Magazine/SRBI poll: Year of the Youth Vote from January 2008:
* Three-quarters of 18 to 29 year old youth are following the election.
* Almost two in three (63%) are following the election campaign by television, 44% by the Internet, and 21% by newspapers.
* Nearly three-quarters (72%) believe the U.S. is on the wrong track.
Over the last decade, voter trends have risen for youth voter registration and turnout (Young Voter Registration Turnout and Trends, February 2008). To see the sharp rise for this presidential campaign, check out , a new report from Civic Learning and Engagement (CIRCLE) and Rock The Vote.Young Voter Registration Turnout and Trends.
PhilanthroMedia is interested in learning about how nonprofits are planning to tap this election's youth activism for efforts that extend beyond it. If you've got an idea or know who is doing solid work here, pls let us know!
Susan Herr