Social Entrepreneurs Addressing the Subprime Crisis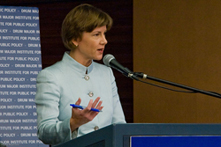 The implications of the subprime crisis are immense for communities. But who is best positioned to address the challenge which spans community, city and state boundaries? In an event PhilanthroMedia covered on the topic at the Drum Major Institute for Public Policy, Minnesota Attorney General Lori Swanson (pictured) described the policy approach her state is successfully using to address the issue.
On the other hand, Social Edge launched a great dialogue on the role social entrepreneurs can play in addressing the crisis. Here's a quote from Carlos Gasca Yanez who launched the dialogue:

Education workshops were the preferred means of nonprofits to address predatory lending. If 7,200 people a year lose their homes to foreclosure then you would need to deliver 900 workshops a year to reach a small portion of the 40,000 households at risk. Nine hundred workshops a year times 3 hours per workshop equals 2,700 hours at an average cost of US$75 per hour would total US$202,500. Could we be more effective if we used these funds differently? The answer is yes.
Check out the back and forth from a variety of leaders on the topic.
Susan Herr