Foundations Promote Privitization of Schools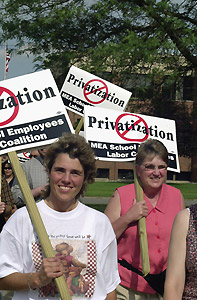 According to a new report from the National Committee for Responsive Philanthropy, more than 1,200 foundations contributed some $380 million to 104 organizations advocating for school vouchers and K-12 education tax credits from 2002 to 2005:
The Walton Family Foundation dwarfed all other funders, awarding $25 million to these organizations in 2005 alone. Other top funders of school choice in 2005 included the Lynde and Harry Bradley, Sarah Scaife, Bill & Melinda Gates, and John Templeton foundations. With the exception of the Gates Foundation, which supported school choice organizations for reasons other than the promotion of school vouchers, all are considered to be ideologically conservative.
As a former inner-city school teacher, I've always been attracted to the notion that students would benefit if teachers were given monetary rewards for higher performance. That's because I learned, firsthand, that many of my colleagues were apparently too old and tired to be worthy of the kids they were teaching. But times are changing. Socially responsible businesses are gaining ground at the same time a wide array of global companies are opening markets traditionally considered unprofitable because they were made up of poor folks.
Of course, it sounds like a better argument until the mega-corporation undermining small businesses nationwide becomes the leading donor to the cause.
Susan Herr