Doing Well While Doing Good Takes Some Doing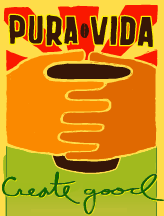 The stories of Pura Vida Coffee and Evergreen Lodge, two for profit companies with double bottom lines, one financial and one social, are highlighted in a recent New York Times article, "Capital Ideas and Social Goals."
Our readers have followed the emergence of such for profit companies in our coverage of the new fourth sector. Several of our good friends in the movement, Heerad Sabeti's TransForms and Tim Freundlich's Good Capital, have been experimenting with these structures for a few years now.
Capitalizing these for profit companies can be tricky for several reasons:
- Investing in a for profit company does not yield a tax deduction the way donating to a nonprofit organization would.
- A logic source of funding for such companies, foundations, public charities and philanthropists, are only just entering the market (see this recent report on mission- or program-related investing trends by FSG Social Impact Advisors).
- In their zealousness to embed the charitable intent or mission into the DNA of the company, founders often impose various restrictions on voting rights, the uses of assets, and the types of capital that can be raised. These restrictions are also seen as important for ensuring that the charitable mission will not be cannibalized in the event of a recapitalization or sale of the company in the future.
The article reports that Pura Vida used a nonprofit parent to issue $1.8 million in interest paying bonds to capitalize the company. However, as the sales began to grow, Pura Vida found it had to use what otherwise would have been working capital for growth to fund interest payments to the nonprofit parent. The solution was to loosen up the capital structure (including restructuring some of the bonds to nonvoting preferred stock) to give the company more flexibility with its working capital.
Our hope is that those of us developing fourth sector initiatives, either as for profits or nonprofits, will be able to learn from others' experience. One good place where information like this is being shared is xigi. Please share your own experiences below to help fuel our learning community.

Carla E. Dearing