To Read or Not to Read?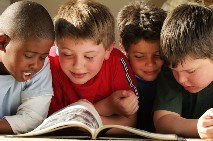 This week the National Endowment for the Arts released a follow-up to its 2004 landmark report, Reading at Risk . To Read or Not to Read is a comprehensive analysis of reading patterns of children, teenagers, and adults in the United States. The report assembles data on reading trends from more than 40 sources, including federal agencies, universities, foundations, and associations, and reveals recent declines in voluntary reading and test scores alike.
In response to its initial study, the NEA created an initiative called the the Big Read, a creative and broad-reaching effort to "revitalize the role of literature in American popular culture and bring the transformative power of literature into the lives of its citizens." It is uncertain whether the NEA will create another initiative in response to this latest report, but what is certain is that this type of analytical, data-driven research helps to elevate the discussion on what needs to be done in the U.S. to secure the future successes of our children and our country.
As NEA Chairman Dana Gioia states in the preface to the latest report, "There is a general decline in reading among teenage and adult Americans. Most alarming, both reading ability and the habit of regular reading have greatly declined among college graduates. These negative trends have more than literary importance: As this report makes clear, the declines have demonstrable social, economic, cultural and civic implications."
Let's face it, reading IS fundamental. The questions are, when will we realize that the strength of our nation is tied to this simple, fundamental activity, and how can we re-instill it into the lives of our populace?

Caroline Heine