Can Filmanthropy Negotiate Multiple Demands?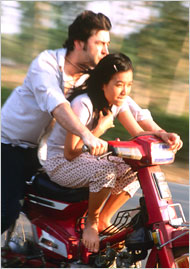 Filmanthropy is a topic PhilanthroMedia began blogging earlier this year when we traveled to the Sundance Film Fest to explore the intersection of film and philanthropy which resulted in our first video episode of "Dialogue for Donors."
New entrants in the genre emerge regularly but for a film lover like me, the question is always whether or not it is possible to balance the demands of art and education. While I know you can't trust much of anything a film reviewer says, when several say the same thing, I tend to stay away.
That's why I can't offer a first-hand opinion of Holly, a new "documentary-fiction hybrid" (!) about sex trafficking in Cambodia. According to the New York Times (and echoed by TimeOutNY and others):
One of three films of the K11 Project (named for Phnom Penh's red-light district and designed to raise awareness of child prostitution), "Holly" continually douses its drama with the cold water of education.
The reviewer continues:
Countering the clumsy cross-pollination of drama and philanthropy, Mr. Livingston performs with increasing intensity and motivational ambivalence. In his hands Patrick is an irretrievably lost soul, as confused by his savior impulse as its beneficiary is.
Anything to blog the world of philanthropy, but even I won't waste a precious movie night for filmanthropy when I can get to the new Ang Lee.

Susan Herr