A Wish to Change the World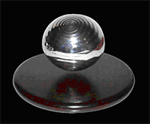 Last week TED released the names of the winners of the 2008 TED Prize, an honor that, according to TED, is "unlike any other award. Although the winners receive a prize of $100,000 each, the real prize is that they are granted a wish—a wish to change the world. There are no formal restrictions on the wish. We ask our winners to think big and to be creative. The goal is that it creates an incredible sense of excitement and common purpose. It inspires the TED community, and all those who hear about the wish, to offer their help in making the wish come true."
Indeed, the three winners' stories are truly inspirational:
• Neil Turok is the Chair of Mathematical Physics at Cambridge University, and as if his brilliant work on cosmology doesn't keep him busy enough, he has founded the African Institute for Mathematical Sciences to promote mathematics and science in Africa; recruit and train talented students and teachers; and build capacity for African initiatives in education, research, and technology.
• Dave Eggers, author of A Heartbreaking Work of Staggering Genius, and What is What, uses his 'spare time' to start 826 National , a family of seven nonprofit organizations dedicated to helping students, ages 6-18, with expository and creative writing; co-found The Voice of Witness series, an oral history project that allows those most affected by contemporary social injustice to speak for themselves; and co-found the Valentino Achak Deng Foundation, which aims to empower war-affected Sudanese populations.
• Karen Armstrong , called the "most original and inclusive thinker on the role of religion in the modern world", and "a bridge between religions", has written more than twenty critically-acclaimed and best-selling books—including A History of God, The Spiral Staircase and The Great Transformation—that examine the differences and profound similarities between Christianity, Islam, Judaism, and the world's other great religions.
It will certainly be exciting to learn the world-changing wishes of three such amazing individuals. Perhaps even more inspirational is the idea that anyone who wishes to change the world can do so. One doesn't really need to be recognized by TED Talks to declare a passion to make a difference and build a community to advance the cause. We all have hometown heroes in our communities whose daily efforts create significant positive social impact. Also, organizations like change.org and wiserearth offer tools and resources to connect folks and build community around social issues. So even those of us who are not as successful or famous as the TED prize winners can ask ourselves what wish we have to change the world, and can help make it come true.

Caroline Heine