Girls Scouts Streamlining to Enhance Impact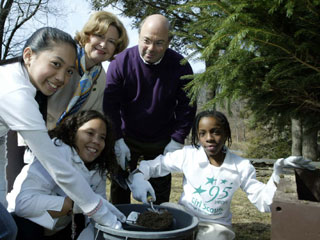 Despite the fact that there are far too many nonprofits in this country, thousands more are created each month. That's why it is especially exciting to hear about a national organization that is reversing that trend within its own ranks.
When Kathy Cloninger (pictured above) took over as CEO of Girl Scouts USA in 2003, she determined to make it "the world's best leadership experience for girls." Instead of hiring a marketing company to simply spit polish this renowned brand's image (disclaimer: I was a Girl Scout), Cloninger took upon herself a drastic reorganization. One part of that work is the consolidation of 312 councils into just over 100, an effort well in progress.
So how is Cloninger pulling it off? According to profile in Merrill Lynch Leadership Magazine:
Indeed, this is the true secret of the Girl Scouts' success, where even the most 'professional' organizations fear to tread: the depth of conviction at every level. A clear and compelling 'why' cuts through much of the inevitable—and very human—resistance to change. 'People work here because they want to make a difference in the lives of girls,' says Michael Watson. 'And whether you work directly with girls or develop program materials or create technology infrastructure, you're touching the lives of millions of girls. The better experience we create for girls, the greater our chance of developing a generation of people who will make important contributions to society.'
Based on her efforts, Cloninger was just named for the first time to the Nonprofit Times Top 50 Power and Influence which calls her revamping efforts "a model to emulate." I recently met Delphia Duckens, part of Cloninger's executive management team, who has promised to keep me abreast of developments. It's a story I know donors who care about both girls and greater efficiency in the sector, welcome the opportunity about which to learn more.
Susan Herr