Donors Who Go Beyond Grantmaking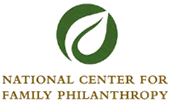 The current issue of Family Giving News,, produced by the National Center for Family Philanthropy, describes the variety of ways that small foundations can pursue greater impact by thinking outside the wallet. Here's what it has to say about one of the most important, talking up nonprofits which are doing great work:
The Frieda C. Fox Family Foundation in Los Angeles produces short multimedia presentations about projects they have funded. Board members of the nonprofits can download the videos to iPods in order to share their projects with others. The Helen Bader Foundation of Milwaukee helps its grantees' publicity efforts by providing sample press releases and media lists with its grants and also commissioning professional photographers and sometimes videographers to record projects for even greater visibility. The Harman Family Foundation of Washington, DC, this month's Profile in Family Philanthropy, goes one step further. It researches and publishes the Catalogue for Philanthropy, a yearly showcase of dozens of innovative and effective Washington-area nonprofits.
(The links are all in Family Giving News so check it out.)
Susan Herr