Alan Smith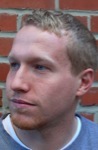 Alan Smith is a freelancing journalist and blogger in New York. He is a writer and comedian, but he also moonlights with the Peabody Award winning Brian Lehrer Show on WNYC and Brian Lehrer Live! on CUNY TV. He also writes an environmental watch-blog called Living the American Green. Alan graduated from Swarthmore College in 2005 with a double major in English and History and was a founding member of the radio podcast War News Radio.
Alan spends most of his non-working hours pouring over the news and trying to figure out why news outlets choose to tell the stories that they choose to tell. He is currently pursuing either a double masters in Journalism and Environmental Science, or the answers to all life's persistent questions: whichever comes first. He hopes that when he discovers the answers, he will be able to harness the internet for good and, with any luck, save the world.
View an archive of Alan's posts here.
Contributor